INTERNET HOSTING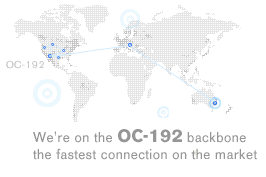 You can now host your website at the same facility that is home to IBM eBusiness Hosting, Sony.com, Charles Schwab, Bloomberg and AltaVista without paying excessive amounts of dollars. This means professional hosting 24 hours per day and 7 days per week in a continuously monitored and physically secured data center at very competitive prices.
Via a high volume contract with one of the larger data centers in the world we are now able to provide high quality and reliable hosting services at a fraction of what you would normally pay for a comparable service.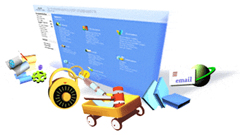 ONLINE MANAGEMENT
Our industry standard online management tool (cPanel) allows you to master your website and makes the technical aspects of running your site simple and seamless.

Through the power of this online software you can create backups, e-mail accounts, sub-domains, mailing lists, and much more. You can also manage your account profile, databases, files and directories and visitor statistics. In addition you can access your email from virtually anywhere using our advanced webmail system.
Try without any risk. Let us know what your needs are via our request form and we'll take care of it. The month in which you register is free of charge. If you are not satisfied, just let us know before the end of the month and we will cancel your registration. No questions asked. Please read our Spam/UCE Policy in our terms and conditions.
REAL SUPPORT - IMPORTANT: Server Announcements
Despite our low prices we're not one of those cupboard service providers that can only be approached via anonymous support forms and/or emails. Neither do we resemble one of the giant telecom providers who offer hosting services and help you via help desks full of people who don't even know how to spell the word internet. If you have a question, just call and get some real help.
UNLIMITED SERVICES
Unlike most internet hosting providers we allow you to use all available services (email, databases, spam filter, backup services, scripts, etc) as much as you like (within technical limitations). You only pay for what you use in terms of allocated (traffic and disk) space.
HOSTING SERVERS
Customers have the option of two hosting locations: Atlanta, USA or Sydney, Australia. Setup of both servers is virtually identical.
DISK SPACE
The main costprice of our hosting service is based on the amount of diskspace your website(s) needs. Please note that you can use this space for one or more websites as long as you stay within the limits of the available diskspace. Diskapace sharing is only possible on one specific server.


Storage (Mb)

50

100

250

500

1,000

2,500

Monthly Price

$15.00

$20.00

$30.00

$40.00

$50.00

$75.00

Annual Price

$180

$240

$360

$480

$600

$900

WEB TRAFFIC
10,000 Mb monthly website traffic is included with every hosting plan, which proves to be more than enough for average websites. Extra bandwidth (traffic) is charged at $12 per Gb per year and will be invoiced when renewing hosting service or end of contract whichever comes first.

OPTIONS
Optionally we offer the following services. Please contact us for more information about these and other options.


Service

Price

Fixed IP Address

$5.00 (per domainname per month)

Domain Name Pointer

$12.00 (per domainname per year)

Domain Name Redirect

$12.00 (per domainname per year)

Addon Domain

$12.00 (per domainname per year)

SERVICES
Hosting plans can be setup within two business days and give access to a wide range of services such as listed below. Since January 2012 all our hosting plans include the complete Fantastico/Softaculous suite of tools, allowing you to install, uninstall and update powerfull tools, applications and scripts with only a few simple mouse clicks.


| | | |
| --- | --- | --- |
| Control Panel | Daily Data Backup | Forum Service |
| CGI Support | Pass Protect Folders | Website Statistics |
| Frontpage Support | Search Engine Submission | GPG Keys |
| PHP5 Support | URL Redirection | Shopping Cart System |
| Python Support | Custom Error Pages | Search Engine Submit |
| Perl Support | Cron Jobs | Shared 128 Bit SSL |
| Catch-All Email | Disk Usage Viewers | Autoresponders |
| Mailing Lists | Email/SPAM Filters | Webmail |

All prices are in Australian dollars and exclusive of 10% GST. Note that GST is only applicable to Australian customers. Please use the currency converter to find the equivalent in your own currency. All hosting plans can be changed on a monthly basis and require payment in advance for one year. The above specified internet hosting prices are valid from the 1st of October 2008.